Artifacts in close icon on dialogs on the new options page

— at Version 3
How to reproduce
Open the new options page
Click on "add other website language" or "add other filter list"
Observed behavior
There are some artifacts below the close button's icon (i.e. the "x").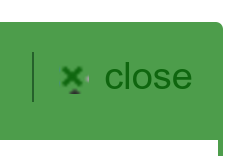 That is because the icon is actually just 10x10px, while the CSS set's it's dimensions to 12x12px, causing it to include some pixels of the icon below from the sprite.

Expected behavior
The close icon should not include any pixels from other icons.